Corrections Officer
Over the past decade, the prisoner population in America has continued to grow. Today, an estimated 2.4 million people are incarcerated in local jails and state or federal prisons. The federal government estimates that local jails process over 13 million offenders each year. Corrections officers help maintain law and order in these correctional facilities. People who fill these difficult criminal justice jobs play a huge role in keeping us safe.
Job Responsibilities
A corrections officer works inside a jail or prison overseeing prisoners. They are responsible for the safety of the prison, inmates, prison workers, and visitors. This work can be incredibly dangerous. Of all the criminal justice jobs, corrections officers have one of the highest rates of on-the job injuries. Each day they interact with the most dangerous elements of our society. These criminals will often try to get into scuffles with guards, and even attempt to break out. A heightened sense of vigilance, an authoritative presence, and knowledge of law enforcement procedures are essential qualities these officers need to possess to be successful and stay safe.
Corrections officers typically work in pairs and may supervise up to 100 inmates. Officers patrol the cell block to ensure prisoners are not planning anything devious. Along with routine security checks, they perform random cell searches. They may be involved in medication distribution and required to watch the prisoner take the medication. Any activities the inmate is permitted (recreation time, library visits, and doctor appointments) are also be monitored by these officers.
Correction officers are responsible for containing disturbances, riots, explosions, or hostage situations that may occur. Meal-time can be one of the most dangerous times of day in a prison since large numbers of inmates are grouped together. Fights often break out, so officers must be prepared to handle any situation that may arise.
These officers do not spend their entire day patrolling the cell block and perimeter of the prison. They may be assigned to monitor close-circuit television, watching the activities of prisoners in the exercise room, yard, or library. Some perform security checks of visitation rooms and verify the credentials of visitors to the facility. Plus, officers have considerable paperwork to complete. Reports, release records, booking, roosters, and logs are maintained by these officers.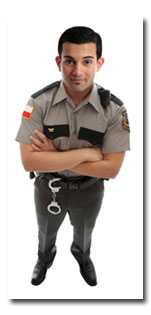 Educational and Training Requirements
Corrections officers must be United States citizens, at least 21 years old, and have graduated from high school. Some correctional facilities, like the Federal Bureau of Prisons, require a bachelor's degree, but most local and state facilities do not. Taking a few criminal justice classes and having previous law enforcement or military police experience will improve your chances of being hired.
Applying to these jobs often require you to take a written exam, pass a physical fitness test, sit for an oral interview, take a polygraph exam, and undergo an extensive background check. Some facilities may even ask you to undergo a psychological exam.
Facilities provide essential training to new officers. Many facilities enroll officers in a corrections training academy where they learn about laws, officer standards and training, firearms, arrest and control techniques, disciplinary forces, and prison gangs. Training is not limited to new corrections officer. Seasoned officers are periodically required to take classes on updated law enforcement procedures and legal regulations.
Job Outlook and Salary Potential
As the prison population continues to grow, the need for corrections officers will increase. The U.S. Bureau of Labor Statistics estimates these jobs will grow at a rate of 9% over the next ten years. The majority of opportunities will be found in government facilities, but there are a few private companies that also operate correctional facilities. The U.S. Bureau of Labor Statistics estimates that the average salary for a corrections officer is $42,610 a year. Salaries depend on experience, job duties, and the correctional facility you work for.
Last Updated: 04/29/2014